FOLD 2006-08
FOLD is a series of 36 digital collages of explicitly mediated imagery, created with conscience but in complete comfort. Its paired images respond to the consequences of crises in the Middle East, crises in photography, and crises in representation. The cycle begins and ends with desert sand, expanses to be marred with blasphemy, blood and obliteration. Intervening images are united by a lower border—a margin of that same sand, sometimes uninflected, sometimes imprinted with Islamic pattern. Shifting from grit to gold, the desert sand becomes the shiny blade of a sword, a replica of King Richard the Lionheart's weapon. In 1191, this king massacred over 3000 Saracens in full view of Saladin and his Muslim army. Spilled blood fails to slake desert thirst.
The sword's blade morphs in and out of another substance, a twisting taffy that traverses the sandy terrain. Its sticky pink does not belong. It becomes inedible and unrecognizable – a visual metaphor for our inability to extricate ourselves from intractable conflicts we continue to create and compound.
All single images are 12 x 9 inches and can be shown paired or alone.
FOLD
Pages 3 and 4
"Sand Nigger" is an offensive and derogatory term used by some American military personnel to describe a person of Middle Eastern descent.
FOLD: LEASH and LAST BREATH
Page 3: After-image of the leash held by Lynddie England at Abu Ghraib.
Page 4: Last breath of a dying goat in a parched land, with a dream of daisies plucked.
FOLD: METAL MADE FLESH and QUARRY
Pages 7 and 8
METAL MADE FLESH:
in an instrument of devastation--
excavating consciousness in an altered
geography, an altered photograph —
an altered veracity changing the borders,
felling the peace.
As opposed to the mechanical bulldozers that destroy Palestinian homes and olive groves, this shovel is a manually operated tool. It represents personal labor and pain, pigmented with flesh and blood-colored rust.
QUARRY
The wound of crushing exposed
The blood red head of a hammer looms above a distant mosque. The taffy below writhes in sand imprinted with patterns of Islamic design — a metaphor for being mired in intractable situations we help to create — in Palestine, Afghanistan and so many other places of war and occupation.
FOLD: THIS LAND IS MY LAND, THIS LAND IS MY LAND I and II
Pages 11-12
A face-off (if shown as a pair) of Caterpillar D9 bulldozers used to destroy Palestinian homes and olive groves. Enlarged to absurd proportions, these monstrous machines appear part animal. Humorous in their incongruity and impossibility, they are open to interpretation.
Is the bulldozer like some thumb of God, rubbing out the olive trees? Or, is the tree rising up and offering its oppressor to a heavenly judge? Can be exhibited singly.
FOLD: FIRST REQUEST and SPRING PREENING
Pages 13 and 14
Smoke from an Aladdin's lamp merges with the trail of a burning Gazelle helicopter. A dove preens in the absence of peace.
The lower border portrays the transition of King Richard the Lionheart's sword into taffy — a malleable, limp, impotent, sticky, messy goo into which any strong, hard, sharp-edged, steel weapon dissolves.
FOLD: DRY TABLETS and MAGIC CARPET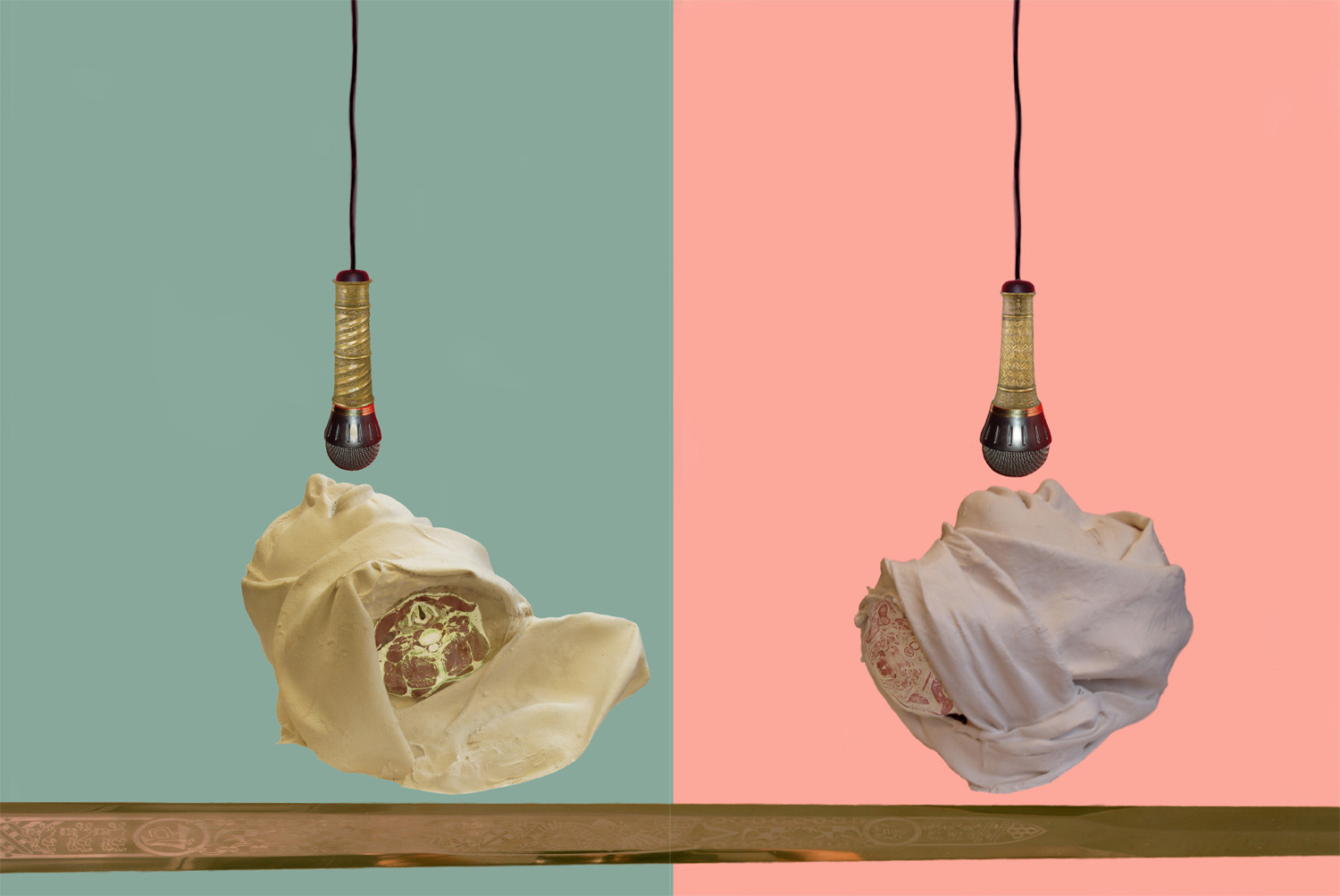 FOLD: REFRAIN I and II
Pages 17 and 18
Microphones engraved with Arabic script give voice to those whose throats have been (figuratively or literally)severed. The plaster heads are life casts from women of Middle Eastern descent. The sword below is a replica of the one used by Richard the Lionheart during the Third Crusade in which he massacred thousands of Muslim prisoners.
FOLD: SOMEWHERE OVER GENEVA
12 x 18 inches, pages 19 and 20
A meditation on violations of human rights conventions and agreements. As of January 2010, the United Nations Security Council had passed 79 resolutions directly critical of Israel for violations of U.N. Security Council resolutions, the U.N. Charter, the Geneva Conventions, international terrorism, or other violations of international law concerning Palestine and Lebanon. Donald Neff, former Bureau Chief in Israel for Time: "Aside from the core issues—refugees, Jerusalem, borders—the major themes reflected in the U.N. resolutions against Israel over the years are its unlawful attacks on its neighbors; its violations of the human rights of the Palestinians, including deportations, demolitions of homes and other collective punishments; its confiscation of Palestinian land; its establishment of illegal settlements; and its refusal to abide by the U.N. Charter and the 1949 Fourth Geneva Convention Relative to the Protection of Civilian Persons in Time of War."
FOLD: RECOIL
12 x 18 inches, pages 25 and 26
FOLD 2006
WHITEWASH and OVERTURN
Page 17: The whitewashing of torture, the veiling of atrocity, the black made white. The promises of false consequences, false consciousness that are too true. The sand turned night. Mephistopheles' wing turned lead. The hawk's wing hovers.
Page 18: Truth overturned. Regime overturned. Vehicles mangled. The ethereal dissolved, feathers turned razors, spirits slicing their way to heaven.
FOLD: HELM and BLACK GOLD
FOLD: SNARE and LYRE
Pages 29 and 30
The Mesopotamian lyre was stolen from the National Museum of Iraq in Baghdad and is depicted amidst a hail of olive offerings. A flute punctures the marching drum floating in Snare.
FOLD: RAZANNE'S BUS and TURKISH COFFIN